All-In-One Heater Kit
Product Announcement from Process Heating Company, Inc.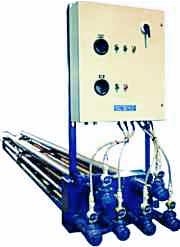 Maintaining an asphalt storage tank at desired temperatures is a primary feature of this new PHCo heating system. This is accomplished using low watt density, drywell immersion heaters.
In addition it circulates oil through scavenger coils and over thermostat controlled electric booster heating elements.
This provides hot oil for heating of jacketed lines, pumps and valves, drags, silo cones and plant components.
The scavenger coils allow for quick heat up while booster coils elevate oil temperatures above the tank storage temperature if higher temperature hot oil is required.
---