Custom Circulation Heaters
Product Announcement from Process Heating Company, Inc.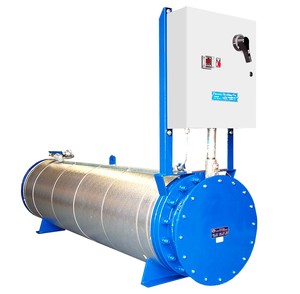 All PHCo inline heaters include a prewired U.L. Listed Industrial Control Panel housed in a weatherproof enclosure. The key components include circuit breakers, contactors, individual load fusing, control circuit transformer with fusing, microprocessor/controlling thermostat, an overtemperature thermostat and all the necessary wiring for automatic operation. PHCo's system can be powered by any industrial voltage to efficiently heat at a rate of 5-7 watts per square inch, reducing the possibility of coking the heater tubes.
PHCo's design allows for total accessibility to the heater terminal box. By removing its cover, the heater element assembly can easily be removed without draining the heater or removing the fluid piping. There is a double flange behind the heater terminal box to which the heater tubes are welded so that the entire internal assembly can be removed for cleaning. PHCo prides itself in knowing that every piece of equipment we sell is sized specifically for each application and each individual temperature to ensure 100% efficiency. Their quality is backed by a five-year warranty on elements. PHCo has built a reputation for quality products that meets or exceeds standards set by the industry. Safety, reliability, durability and customer loyalty are simply part of that quality.
---