Inline Heavy Fuel Oil Heater
Product Announcement from Process Heating Company, Inc.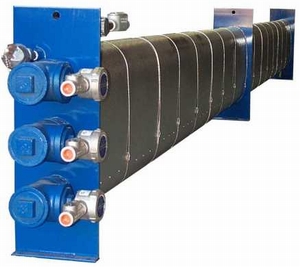 Heavier oils move smoothly to the burner with PHCo's in-line electric preheater. This system beats the viscosity barrier! If you are converting your plant to heavier fuels, viscosity control must be addressed. Nothing is simpler, nor more cost-efficient, than Process Heating Company's Lo-Density® in-line preheater. It picks up the lag between the pump and the burner nozzle to assure the efficient delivery of a steady flow of fuel to the burner at proper temperatures.
There are two ways to adjust viscosity in used oil. One way is to cut or blend the used oil with expensive #2 or diesel. This raises the cost of your fuel because diesel is much more expensive than used oil. The other way to lower the viscosity is to heat the fuel immediately before the burner. This is where Process Heating Company's Inline Fuel Oil Preheaters come in. These are fully automatic, easily controllable, electric inline heaters with all the features you've come to expect from PHCo. Features like ETL and UL Listing, low watt density, and dry well heaters that we back with a five-year warranty. We've been manufacturing high quality, maintenance free and environmentally sound preheaters since 1947. So, if the use of reclaimed oil is one of your options, we're as close as your telephone, fax or computer. Infact, to make it easy for you, check out their new electronic quote form on their web site. You can get your questions answered in seconds.
---