Environmental Safety Warning System - Therm-Alert
Product Announcement from PMC Engineering LLC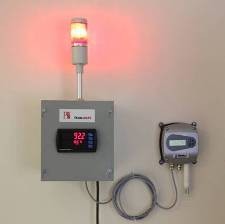 Therm-Alert Is a very flexible and customizable sensing and alarm system intended to warn employees and management when temperature or dew point in working areas reach dangerous levels.
The system comprises a high performance capacitive humidity sensor with temperature element, coupled to a display with one or more switch outputs to control functions such as warning lights. The display is mounted within a NEMA 1 enclosure for indoor use or NEMA 4 for outdoors. The sensors can be installed within the main enclosure or in a separate remote enclosure, with or without a secondary display. The system is fully configurable to user needs, including choice of sensors, enclosure, display and annunciators.
The system uses rugged, precision sensors for Temperature, RH and Dew Point to measure environmental conditions. Set points are configurable throughout a wide performance range.
Fully configurable to customer needs.
Single warning light, or multiple stack lights
Displays and annunciates Temperature, Dew Point, RH, or any combination
Customer programmable set points
Integral or remote sensors
See datasheet.
---