Groundwater, SeaWater Depth & Level Transmitter...
Product Announcement from PMC Engineering LLC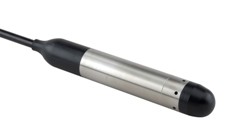 The PMC VersaLine VL3004 Series features the SDI-12 protocol. These submersible transmitters are specifically designed for depth and level measurements of groundwater and sea water.
Typical applications would be in rivers, wells, dams, irrigation and oceanography. The stainless steel construction will satisfy many applications and the titanium housing is ideal in brackish or sea water or other chemical environments unsuitable for stainless steel. The standard polyurethane vented cable is molded to the transmitter providing the highest integrity waterproof assembly well proven in thousands of installations worldwide. When using SDI-12 protocol the cable length can be limited by the number of transmitters on the same line. When a single transmitter is used, cable lengths of up to 500ft are acceptable.
VersaLine VL3004 Series Depth and Level Pressure Transmitter
Ranges:Full Scale (Zero based) 0-20, 50, 100"WC 0-1, 5, 10, 15, 30, 50, 100, 150, 300, 700 psig 0-30, 50, 100, 150, 300, 500, 700 psia Other ranges and pressure units can be specified.
SDI-12 v1.3 Protocol
Total Accuracy <±0.1%
Level and Temperature output
Molded polyurethane cable
Lightning Protection
---