Electronic Pressure Regulator for Oxygen Service
Product Announcement from Proportion-Air, Inc.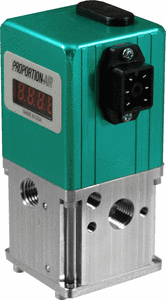 Proportion-Air announces that the popular QB3B series of electronic pressure regulators is now available for oxygen service. In addition to an oxygen cleaning process, the QB3B incorporates oxygen compatible metals and uses elastomers optimized for oxygen service. The QB3B is much safer to use in oxygen control than previous or competitive electronic pressure regulators. Successful applications include medical, dental, plasma metal cutting, and laser cutting assist gas applications.
Contact
Proportion-Air, Inc.
8250 North 600 West
McCordsville, IN 46055
Ph 317-335-2602
www.proportionair.com
Email: info@proportionair.com
---