Increase Income With Mobile Vibration Monitoring
Product Announcement from Prosig USA, Inc.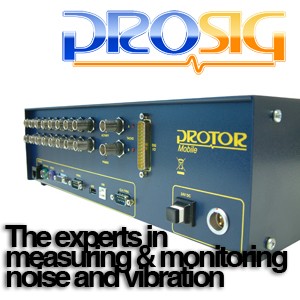 Undetected vibration issues can lead to damage, unplanned outages and loss of income. High quality vibration monitoring using Prosig's PROTOR-mobile can detect these problems, monitor them and assist in scheduling maintenance. PROTOR-mobile is the ideal, investigative tool for vibration condition monitoring of rotating machinery. It is available as a highly portable 16-channel unit or as 32-channel units for larger jobs. PROTOR-mobile's portable vibration monitoring will increase efficiency, improve safety and lower costs.
PROTOR-mobile is a flexible, portable vibration condition monitoring solution designed to suit a number of different requirements. It can easily be taken to site, configured and then left running, unattended, for hours, days or even months. If required the system can be connected to a LAN, WAN or VPN and accessed remotely.
The data acquisition hardware in the PROTOR-mobile system can take data from accelerometers, velocity or displacement probes. The system supports ICP transducers and has fully programmable signal conditioning. PROTOR-mobile signal inputs are true-differential. high common-mode and so suitable for all transducer signals in an industrial environment. PROTOR-mobile can be used alongside any existing protection or supervisory system, in cases where raw signals are shared then high-impedance galvanic isolation can be fitted as an option.
The software contains all of the same monitoring facilities as Prosig's world renowned PROTOR system.
Visualizations include
runups
mimic diagrams
rundowns
orbits
vector plots
FFTs
trend plots
order plots
Bode plots
waterfalls
shaft gaps displays
many more.
Alert processing options include
order & overall amplitude exceedance
exceeding elliptical boundaries in amplitude & phase
exceeding difference in RMS & sum of harmonics
exceeding subsynchronous amplitude
step alerts
banded spectra alerts
vibration alerts dependent upon plant process parameters
filtering of wild alerts.
Read about one of the many real-world problems solved using a PROTOR-mobile system
Find out how truly mobile a PROTOR-mobile can be
Why not find out more or request our Condition Monitoring Solutions CD
---