Bullet Resistant Enclosures
Product Announcement from Protective Structures, Ltd.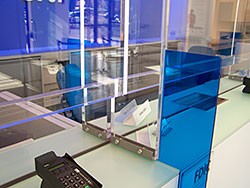 Protective Structures, Ltd. specializes in the design, fabrication and installation of custom built Bullet Resistant Transaction Windows & Accessories.
Our transaction window assemblies offer many design options and are comprised of UL listed components and accessories.
Protective Structures, Ltd. recommends using UL-752 levels 1 – 3 bullet resistant acrylic or polycarbonate for interior transaction windows unless a glass product is specifically required. We are able to drill and bolt into both acrylic and polycarbonate, and can offer more variety in design using these transparencies. We incorporate clear offset voice ports using an acrylic or polycarbonate back plate, providing full ballistic protection.
Bullet resistant laminated glass and glass clad polycarbonate, available in UL-752 levels 1 – 8, is typically provided for exterior transaction windows or in maximum security facilities when a higher level of protection is required. Because glass cannot be drilled, a circular stainless steel or aluminum voice port must be used if an intercom system is not in place.
---