Injection Molding Design for Dummies
Service Detail from Proto Labs, Inc.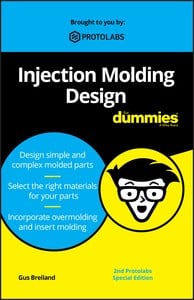 Back by popular demand, the second edition of Injection Molding Design for Dummies offers you insight into a molding approach that's fast and built around your needs. Whether you are in a prototyping phase or need the flexibility of on-demand, low-volume production, this book gives you the guidance you need to improve the quality of your molded parts and the speed at which they can be manufactured. This new edition is updated with lots of new information, including tips for using overmolding and insert molding.