Design Tips for injection molding
Service Detail from Proto Labs, Inc.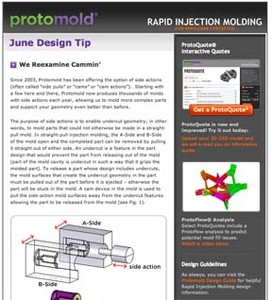 Would you like helpful advice and suggestions to efficiently and cost-effectively design your parts? Our Protomold Design Tips e-mail newsletter arrives in subscribers' inbox once a month, delivering useful tips, advice and guidelines on everything from selecting materials to designing injection molded parts using cams, shut-offs, living hinges and more. Subscribe today to receive our monthly Design Tips or visit Protomold.com to browse through our past issues.
Other Protomold Resources available include:
Industry Expertise
Protomold
Publications

Play Design Tips for injection molding Video
---