CNC Components and Assemblies for Military
Service Detail from Protomatic, Inc.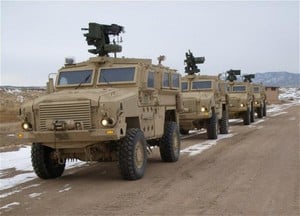 Protomatic's history of manufacturing custom CNC components and assemblies for OEM land vehicles, aircraft, and space vehicles has been a great source of pride in recent years. Therefore, we proudly offer support components for military ground vehicles, specializing in electronic chassis and brackets, custom connector components, plastic covers, and microwave applications.
We provide military research and development parts for aerospace application to ground transporation components. We provide a critical role in protecting our valuable young men and women serving as peacekeepers in our armed forces. Whether in combat, rescue, or relief operations around the world, the reliability and flexibility of our products serve as a testament to our commitment to quality. ISO 9001:2008 and ISO-13485:2003 Registered.
---