Fiber Optic Connectors & Cages
Featured Product from Pulse Electronics Corporation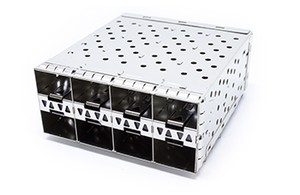 Pulse Electronics Networking BU supplies high-quality fiber optic connectors and cages to innovative ODMs, OEMs and other manufacturers designing today's most demanding network products. Our line of 40+ fiber optic connectors include SFP, SFP+, and QSFP connector and cage products.
Key Product Specifications:
SFP & SFP+ Cages/Connectors
QSFP & QSFP+ Cages
With & Without Lightpipes
With & Without Heatsinks
Press Fit, SMT & THT Package Options
Gold 15 U" & Gold 30 U" Contact Area Plating
1G, 5G, 10G, 40G & 100G Performance
1xN & 2xN Platforms
Standard Industry Footprints
EMI Shielding Options
Signal Integrity Simulations
RoHS Compliant
Our goal is to be the preferred technology partner for copper connectivity interface solutions to leading suppliers of communication network equipment & devices.
By manufacturing & supplying many of the world's best connectors and passive components, our focus always remains on ensuring CEMs, OEMs and PHY companies can rely on our quality, design and production volume capabilities.