Laser Welding
Service Detail from Pulse Technologies, Inc.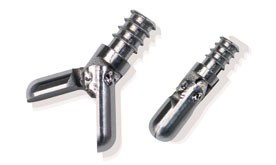 Pulse Technologies is unusual among contract manufacturers in its ability to offer laser welding to medical device makers. We have a variety of equipment including Spot and CNC (computer numerically controlled) welders to suit different applications and weld almost any metal. Our equipment and operators are especially adept at welding similar and dissimilar metals and at controlling weld overlap.
Among the parts we laser weld are keyed housings and distal jaw assemblies.
Weld spot as small as .004" (0.100mm)
Weld seams as small as .002" (0.050mm)
Micro-welding of fine wire down to .002" (0.050mm) diameter