Swiss Screw Machining
Service Detail from Pulse Technologies, Inc.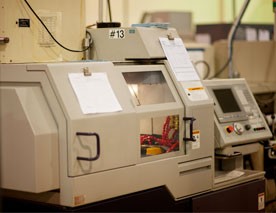 For mathematically precise, repeatable micro-machined parts, Pulse Technologies maintains a robust computerized control (CNC) Swiss screw machining operation, with up to 11 axis machining including multi-spindles and high throughput equipment.
Because Swiss screw machining is such a core requirement for medical device makers, we make it a priority to stay on top of the latest machining technology, working with the machine and tool manufacturers to provide input for the next generation of machines. It may be good now, but we know it can be better.
Up to 11 axis micromachining
Multi-spindle machine for high volume production
Thread whirling capability
Contour milling
Outside diameters as small as .012" (0.305mm)
Small hole diameters to .006" (0.015mm)
Thin wall machining to .0015" (0.038mm)