Laser Texturing
Service Detail from Pulse Technologies, Inc.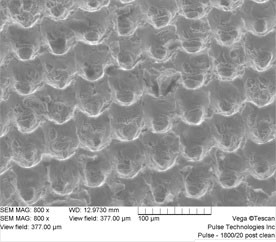 At Pulse Technologies, we've developed advanced laser texturing techniques to create controlled surface roughness for improved bonding strength, particularly for bonding between plastic and metal surfaces of a component or assembly. This process yields a 3X increase in strength on metal to polymer adhesive bonds.
We use this approach for a number of vascular and cardiac applications, including precision welded assemblies and precision machined parts. Working with customers on specific component parts, we have mastered the process such that it's consistently repeatable and can be offered cost-effectively.
It takes the right equipment, but beyond that, laser texturing is the result of some imagination among engineers, a customer wanting something better and different and the general Pulse attitude of, "of course, why not?"