CIP Sanitary-Connected RTDs
Featured Product from Pyromation, Inc.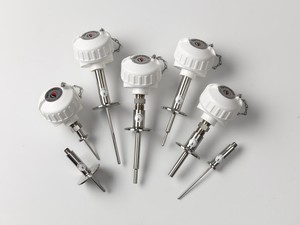 General-purpose CIP sanitary-connected RTD temperature sensors are used in food, dairy, beverage, pharmaceutical, and chemical processing applications where sensor corrosion and product contamination are critical factors. The sanitary caps listed are those most commonly used in such processes. Sanitary caps are welded to the sheath and to a heavier support tube, all made of stainless steel, and then ground and polished to a finish that exceeds the No. 4 minimum finish required by the 3-A Sanitary Standard 74 - . Assemblies are supplied with a surface finish that meets or exceeds 32µin Ra. Surface finishes of 15µin Ra or better are available upon request. The process contact surfaces are free of pits, crevices, and pockets thus preventing corrosion and bacteria growth. The 3-wire constructed sensor assembly consists of a high-accuracy platinum element sealed inside a 316 stainless steel sheath, and is provided with a FDA-compliant white thermoplastic gasketed connecting head. The complete assembly provides excellent washdown protection. It is recommended that once customer connections are made, the connecting terminals be further protected by applying a coating of moisture-proof sealant over the connections.