Custom Temperature Sensors/Thermowells
Featured Product from Pyromation, Inc.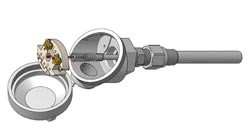 Pyromation's team of experienced engineers is dedicated to the continual improvement and development of our products. Our CAD system, combined with in-house design and testing expertise, facilitates our ability to develop new products with proven reliability quickly to meet your specific applications. Our Engineering team's capabilities, knowledge, experience and on-site process evaluations provide you with support and the best possible temperature measurement results
If you need small quantities of temperature sensors or prototypes that require special machined components, you can count on us to deliver them in a timely manner. Our in-house machine shop - complete with metal cutting, threading, shaping and finishing machinery, and stocked with a variety of raw material - compliments our Engineering, Design, and Production teams to manufacture sensors with special component parts.