Explosion Proof (XP) Connection Heads
Featured Product from Pyromation, Inc.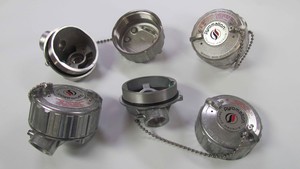 Fort Wayne-based Pyromation, Inc. recently received IEC Flame Proof (FP) certification on its design-patented line of Explosion Proof (XP) connection heads. The approval, which includes both ATEX and IECEx certifications, was established by the International Electrotechnical Commission (IEC) and indicates that Pyromation's stainless steel and aluminum XP connection heads can be used in most European and international hazardous location applications. Pyromation had previously attained Explosion-Proof approvals from North American standards associations FM and CSA. Pyromation's XP connection heads can be used as a component or as part of temperature sensor assemblies in NEC Class I Division 1, and Class I Zone 1, as well as IEC Flameproof applications.
The unique patented design and NEC and IEC approvals of the Pyromation XP connection heads make them ideal for use in chemical, oil & gas (refineries), power generation, pharmaceutical and other plant process applications where combustible or flammable conditions are present. The heads are used as electrical enclosures where connection of instrumentation, such as a temperature sensor or a level sensor in a manufacturing application, is critical in transporting a measuring signal from the process to the control panel for analysis and/or automated operations. The instrumentation is terminated within the head to a ceramic block or transmitter.
Not only are the connection heads safe, but they're designed for flexibility and ease of maintenance. Pyromation's SS and aluminum XP connection heads provide large internal volume without being too large externally to fit most process applications. Each can be fitted with most industry terminal blocks and transmitters, including DIN Form B types. Gripping ribs provide leverage to tighten and unscrew the cap. The cap's connecting chain is 8.5 inches long and easily pivots with each turn. The elevated terminal block platform allows for plenty of access, making wiring a much simpler job. A positive conduit stop prevents over-tightening and damage during installation of conduit. An internal and external ground screw location allows for additional wiring flexibility. The rubber O-ring gasket ensures a complete seal of the instrument and wiring from the external environment, which is confirmed by the NEMA 4X and IP66 ratings for both connection heads.
Pyromation's XP connection heads are available through the company's distribution partners or direct from the company.
Established in 1962, Pyromation is one of the leading manufacturers of thermocouples, RTDs and thermowells in North America. An ISO 9001-registered firm and Lean manufacturing enterprise, Pyromation temperature sensors can be found on equipment and in processes in the chemical, petrochemical, power generation, food & beverage, dairy, plastics, heat-treating, oil & gas, pharmaceutical, aerospace, biomass, metal processing, rubber, mining, HVAC, water & wastewater, incineration and many other industries in North America and around the world. Temperature calibrations are performed in the company's onsite NVLAP accredited Metrology Laboratory. The combination of personalized service, quick delivery and a broad line of superior quality sensors, components, complete assemblies and accessories ensure optimal solutions for each customer's temperature measurement applications. Speed, service, solutions…beyond measure. For more information visit Pyromation's Web site at www.pyromation.com.