Hyperboloid Contact Systems
Product Announcement from QA Technology Company, Inc.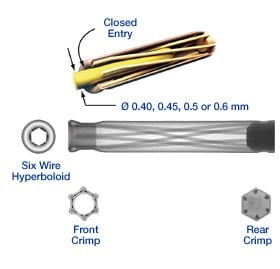 QA Technology integraMate® Contact Systems use high quality, high reliability hyperboloid contacts intended for a wide range of applications. Our patented design provides lower insertion force, closer connector pin spacing, and better protection from damage than competitive designs. In addition, our automated manufacturing equipment typically allows us to ship within 24-48 hours of order.
Competitive Advantages
The integraMate Hyperboloid Contact System has three clear advantages over existing hyperboloid contacts:
Lower and more uniform insertion and extraction forces
Smaller contact diameter allows closer spacing and higher connector density
Better protection of the hyperbolic wire cage from accidental damage, since the cage lies behind a strong tubular entrance
Features
Low insertion/extraction force
Low electrical resistance
Long cycle life
Immune to shock and vibration
Positive wiping action
Easy contact removal using available extraction tools
Small external contact diameter compared to other hyperboloid contacts allowing closer spacing
Tubular entrance to protect spring wire cage and guide mating (closed entry)
Intermates with other hyperboloid contacts known in the industry
Applications
Medical & Dental Equipment
Scientific Instruments
Industrial Equipment
ATE Interfaces
Transportation Equipment
Military & Aerospace
Telecommunications & Data Communications
---