Tip Styles for Agilent's Bead Probe Technology
Product Announcement from QA Technology Company, Inc.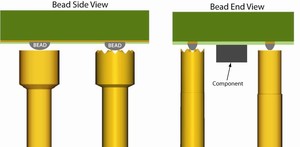 QA Technology Company is pleased to offer new microserrated tip styles for use with Agilent's Bead Probe Technology. This new micro-serrated tip is an added solution for extreme circumstances where contaminants, fluxes or oxides are too great to make reliable contact with flat tips.
Upon actuation, the force of the spring probe compresses the Bead Probe breaking through any the flux residues and contaminants, providing a reliable electrical contact.
Our headless versions are available for situations where nearby components are located too close to the intended Bead Probe target.
---