Bourdon tube pressure gauges
Product Announcement from QED, Inc.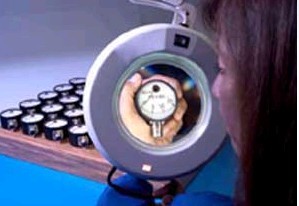 QED manufactures precision helically wound Bourdon tube pressure gauges, pressure switches and pressure gauge/switch combinations for a wide range of demanding applications.
The Bourdon tube design offers both extreme simplicity and reliability. When pressure is present at the tubes open end, it causes the tube to unwind predictability. This directs the pointer, which is brazed to the closed end of the tube, to a spot on the pre-calibrated face of the gauges dial to indicate the correct pressure. As the applied pressure varies, the tube unwinds further or relaxes back toward its fully coiled state, causing the pointer to register the new applied pressure.
Because there is only one moving part, there are no gears or linkages to wear out. Also, the gauge is inherently light in weight and highly resistant to shock, vibration and temperature changes. And because QED uses Inconel X-750 Bourdon tubes, our gauges are compatible with almost all fluids. This single moving part, with integral pointer, takes the place of conventional C style tubes and the attendant gears, spindles, bearings, linkages, springs and other parts that wear during usage. The result is that the QED pressure gauge will retain calibration accuracy during its life use, even when subjected to over-pressurization of one and one half times the scale range.
QED/Inc. quality is just as important as product longevity. Because we consider quality as a serious, ongoing, company-wide effort, we have just recently upgraded from a MIL-Q-45208 quality system to one which is ISO 9001 compliant. FAA and Boeing audits have resulted in QED gaining Boeing D1-9000A approval for our new quality system. In addition, QED/Inc. is a Lockheed Martin STAR supplier. The STAR system permits us to perform all source inspection tasks, normally done by a Lockheed Martin inspector at the supplier facility, by QED personnel prior to shipment. Lockheed Martin has also conferred upon QED/Inc. the status of a SELECT supplier. SELECT status is designed to provide the supplier with preferred treatment in the selection of vendors for new projects.
---