Miniature Pressure Gauges
Product Announcement from QED, Inc.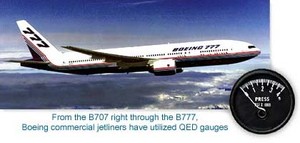 Miniature Pressure Gauge Specialist, Gauges Delivered, Customers Served
QED, Inc.'s extensive experience with miniature pressure gauges makes us eminently qualified to meet your requirements. In fact, its not unusual for us to have already built a gauge that's functionally identical to the one you need. But when you're up against a real challenge, look to QED for an innovative solution.
For more than 30 years QED has been a leading supplier of miniature pressure gauges to the aircraft, aerospace and defense industries. So whether your vehicle travels the earths surface, flies through the atmosphere or reaches the vacuum of space, QED has a pressure gauge to meet your specific requirements.
QED supplied gauges have been measuring pneumatic pressure on the Sidewinder missile since 1981. QED designed and built pressure gauges are widely used in fire suppression, hydraulic, pneumatic and oxygen systems on transport aircraft.
---