Automated Shipping and Manifest Systems
Product Announcement from QMI Services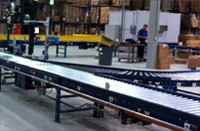 Excellence In Motion. The shipping and manifest process can be optimized with our automated solution to remove touch labor and seamlessly interface with any host and shipping software.
QMI is experienced in identifying and solving inefficiencies associated with shipping and manifesting. Most distribution centers utilize manual processes to convey, pack, scan, weigh, dimension, and label outbound shipments.
ROI and System Justification:
As a rule of thumb, if a DC is shipping 500+ packages per day, there is typically payback that justifies automating some or all of the shipping and manifest processes.
Labor: Typical end of line shipping areas employ the labor of people who manually scan, weigh, and manifest each shipment. This labor is better utilized in places that provide more value to the operation or may be eliminated altogether.
Order Accuracy: Orders are often manually inspected for quality control. Much of this work may be automated with expected weight comparison to actual weight or other means. Mistakes from boxes with mismatched labels applied are easily rectified with automation.
Seasonality: Many DC's hire seasonal temps to keep up with spikes in demand. Automated manifest lines are able to handle constant throughput and virtually eliminate drastic increases in workforce.
Conveyors
Shipping systems may be standalone lines or integrated with existing conveyor systems. QMI provides systems to include the necessary conveyance for induction, zones for each task such as labeling and weighing, and handling with diverts for exceptions handling or sorting to shipping lanes.
Scanning
Shipping cartons, bags, and/or envelopes are automatically scanned during induction to the system. Typically each item contains a label associated with the customer host system. This order ID (license plate barcode) is scanned to lookup order and shipping information. Scanning systems read the LPN from a side or top of the item. This data is captured and utilized in any or all of the following steps.
Weigh in Motion and Checkweigh Comparison Weighing
Checkweighers are used to record actual shipping weight and can also be used to compare an expected weight to the actual weight, which is another way to validate order picking and avoid costly mistakes. This added feature is very helpful depending on the picking method and business model.
The weight is merged with the data from the inbound scan and passed to the shipping software or host, depending on how labels are created in the operation.
Cubing and Dimensional Weight Factor
Customers who ship wide varieties of cartons, use vendor supplied cases, or otherwise need to report dimensional weight will greatly benefit from including the cubic information provided by QMI's in motion cubing systems. Our core business is rooted in dimensioning systems and a solid compliment to any in motion or static application where dimensioning is important at the product or packed shipment level.
Automatic Print and Apply Labeling
After shipping items have been scanned and weighed and/or cubed, the shipping label data is merged and a label is automatically printed and applied to the box. Printer applicators are used to apply the label to either to side or top in most cases. However, many compliance or custom applications require multiple labels, folded top/side application, or additional printing of packing lists. All of these options are available with automated printing and label application.
Verification Scanning
A verification scan is performed to the shipping label to ensure both the label has a readable barcode and also to merge all data to the manifest – LPN, weight, optional dimensions, and tracking number. This single step prevents any issues with the remote chance shipments went out of sequence during the process, such as a box being removed, falling off, or human tampering.
---