Induction Hardened Gear Couplings from QTC
Featured Product from QTC METRIC GEARS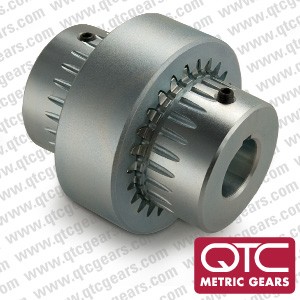 These gear couplings from QTC Metric Gears feature induction hardened gear teeth as an ideal solution to the precision coupling of two shafts. Identified as the GC... Series, they are stocked in carbon steel hardened to HRC 48-53. The gear teeth on the inner hubs are crowned to allow for up to 5° of shaft angle offset. Due to the induction hardening of the gear teeth, these couplings have excellent durability. All surfaces are Unichromic plated. These units are machined complete with keyways, set screw holes, and finished bores and are ready for immediate installation.
QTC METRIC GEARS is your complete source for metric gears and gear products. With 9700 configurations of 150 standard items we are able to meet the ever increasing demand for metric gears for both replacement and OEM production quantities in power transmission applications.
Quotes, online orders, and 3D CAD models are available on our estore at https://shop.sdp-si.com/catalog/?brand=qtc.
QTC METRIC GEARS, a Designatronics company
250 Duffy Avenue, Hicksville NY 11801
Phone: +1 516-437-6700 • Fax: +1 516-328-3343