Proven Performance for Linear Motion Systems
Featured Product from QTC METRIC GEARS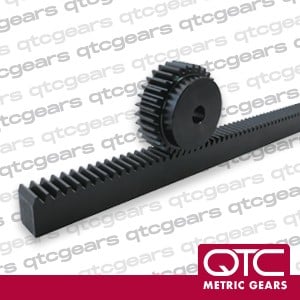 Rack and pinion drive systems compare favorably to other types of linear drives, providing outstanding performance, positioning accuracy, unlimited travel distance, and cost efficiency. Racks and pinions are used in hundreds of applications such as packaging machines, conveying devices, printing equipment, and automated machinery.
QTC METRIC GEARS stock gear racks are manufactured for high-precision linear motion applications. Racks are available in Modules 0.5 thru 10 and lengths ranging from 100 to 2000 mm. Offered in steel, stainless steel, and plastic, characteristics include high precision, abrasion resistance, high strength, long life, rust resistance, low noise, and cost efficiency. Lubrication is the key to ensuring long life and ability to reach high speeds. The correct amount of grease is usually applied automatically resulting in little maintenance.
Below is a partial list of our rack, round rack and pinion offerings. Download product specs, view diagrams, and get technical information. For customized solutions speak to our product specialist or send a drawing or 3D CAD model for quick quoting - RFQ
KMRGF/KMRGFD – High-performance rack made of SCM415, carburized chromoly steel.
KSRF-HL/KSRFD-HL – High-strength hardened racks with laser hardened teeth, Modules 1.5 to 6.
Stainless steel (SUS304) racks, KSUR/KSURF/KSURFD, are rust resistant making them perfect for food and beverage machinery.
KBSR – Small pitch racks made of rust resistant brass (C3604)
KPR/KPRF – Lightweight nylon racks can be used without lubrication
KDR – Molded flexible racks made of Duracon (M25-44) are used in applications such as automatic doors, window blinds, and motor driven room dividers. Racks, pinions, rack guide rails and rack clamps are all available.
KSRHEF – Helical racks, Modules 1.5 to 6, are quiet running at high speeds and have a higher load carrying capacity.
Rack and Pinion versus Ball Screws
Advantages of Rack and Pinion: Simple mechanism with few component parts, supports heavy loads, can be made compact, high feed speed and transmission efficiency, limitless length, design flexibility, high precision, appropriate for food and beverage equipment.
Advantages of Ball Screws: High transmission efficiency, high precision products, high speed feed, and no backlash.
To learn more, visit our technical section
Product detail, selection tips, and 3D CAD models are available online. Shop QTC METRIC GEARS. Need customization? Call Us 1 (516) 437-6700.
About QTC METRIC GEARS a Designatronics Inc. brand
QTC METRIC GEARS was established in 1993 in response to the combination of an ever-increasing need for metric gears and a strong growth in demand for power transmission products. Offering the industry's most comprehensive selection of stock metric gears, QTC METRIC Gears supplies North America with high-quality, off-the-shelf components and customized gear solutions for thousands of applications.
Website: https://www.qtcgears.com/