Supplying North America with Metric Gears
Featured Product from QTC METRIC GEARS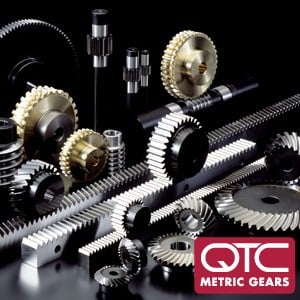 QTC Metric Gears carries the widest variety of off-the-shelf metric gears in North America. Catalog Q430 contains an extensive list of spur gears, bevel and miter gears, screw gears, racks and pinions, worms and worm gears. Other gear products, such as internal gears and gearboxes, are available as well. These products are available in many different materials, sizes and styles to fit a wide variety of applications.

Nearly every standard module and tooth count is available within the working range of sizes, so once the desired style of gear is selected, the proper size can be found as well. If the part requires secondary operations before use, such modifications can be made in many cases, and this is specified on each page. Additionally, selection tips found in the catalog give application characteristics and other helpful specifications for each series. This ensures that, with all the different stock gears to choose from, the ideal part can always be found.
QTC Metric Gears is your complete source for metric gears and gear products. With 9700 configurations of 150 standard items we are able to meet the ever increasing demand for metric gears for both replacement and OEM production quantities in power transmission applications.
Quotes, online orders, and 3D CAD models are available on our estore at https://shop.sdp-si.com/catalog/?brand=qtc.
QTC METRIC GEARS, a Designatronics company
250 Duffy Avenue, Hicksville NY 11801
Phone: +1 516-437-6700 • Fax: +1 516-328-3343