LINOS MeVIS-C High-Resolution, Megapixel Lenses
Product Announcement from Qioptiq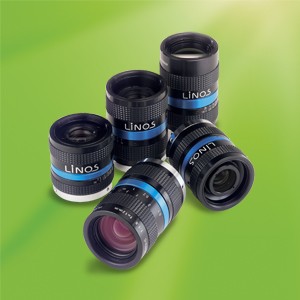 Available from Qioptiq, the LINOS MeVis-C Machine Vision Lens Series offers superior image quality for Multi-Megapixel C-mount cameras. MeVis-C Lenses are specifically developed for use with the highest resolution sensors available on the market today and deliver exceptionally high resolution across the entire sensor to ensure optimized camera performance.
Designed for zero-brightness-fall-off and distortion across the full field-of-view, MeVis-C Series features a chromatic correction through the entire operating wavelength range (450 - 900nm) to eliminate problematic color fringe variations.
Resolution up to 200 lines per mm (even in the extreme image corners) is more than sufficient for a 12Mpixel sensors with up to 1 inch image diameters. The mechanical housing is designed with lockable focus screws to work in any environment and fits most any commercially available 3-chip CCDs with beam splitters.

The MeVis Lenses are also available in a motorized versions called MeVis-CM. This series comes with a motorized diaphragm and focus and is easily controlled by potentiometers.
Large image field up to 1-inch
For pixel size even below 2µm
High numerical aperture
Transmission range: 450-1000nm
Camera Mount: C-Mount
Depth of thread: 3.5mm
Focusing: manual, lockable
Iris diaphragm: manual, lockable
Filter thread: M35.5x0,5
Diameter: 42mm
---