Multi-wavelength Laser Engine
Featured Product from Qioptiq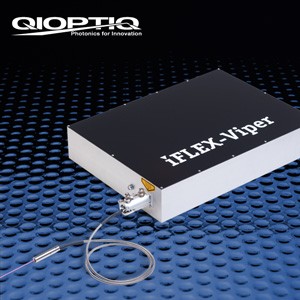 The iFLEX-Viper from Qioptiq combines up to five lasers in one instrument and delivers
each wavelength simultaneously or individually via one singlemode,
polarization-maintaining fiber optic delivery system. The system is mode-hop free and wavelength stabilized as a direct result of active temperature control. A closed loop control provides long-term power stability. A space-efficient solution for OEMs requiring multiple independently controlled wavelngths delivered to a single common point.
The iFLEX-Viper is guaranteed for long lifetime and delivers exceptional power stability with low amplitude noise. Independent and simultaneous control over each laser enables new experiments not possible with AOTF controlled devices.
The iFLEX-Viper is compatible with a number of commercially available imaging software packages such as Olympus cell^R, MetaMorph and μManager and a number of add-on interfaces ensure a complete solution for all microscope systems. Features inlclude:
Up to 5 laser wavelengths ranging from 405nm to 780nm
Laser power of up to 60mW per line
Low optical noise (0.3% rms)
Analog modulation up to 3MHz
Turnkey power supply with USB control
Custom OEM modifications available