New Spatial Filter Q-Set saves setup time
Featured Product from Qioptiq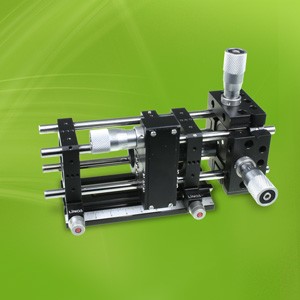 The New Spatial Filter Q-Set from Qioptiq is a pre-configured assembly which provides streamlined integration into your optical breadboard setup to provide homogenized intensity distributiion and reduced aberation of laser beams. Laser light is focused by an achromatic lens and transmitted through a pinhole which partially removes inhomogenities. At the same time, this Q-Set can also be used to generate a point source.
The pinhole with a diameter of 30 µm is mounted into a x-y-Precision Translation Stage with decoupled adjustment axes. The adjustment screws provide a 0.25 mm spindle pitch and a travel of ±1 mm. The lens can be aligned along the z-axis with an accuracy of 1 µm and almost without any play.
The Spatial Filter Q-Set is provided as a pre-configured assembly and contains the following LINOS optomechanical components:
(04) G061210000 - Rod 150mm
(02) G061042000 - Mounting Plate 30
(01) G061061000 - Z-Fine Adjustment M Micrometer
(01) G065040000 - XY Precision Translation Stage
(02) G061371000 - Carrier FLR 40-10
(01) G061352000 - Flat Rail FLS 40-100
(01) G061621000 - Reducing Ring, W0.8" x 1/36"
(01) G040152000 - Pinhole 0.03 mm, ø25mm mounted
(01) G038771000 - Microscope Objective 10X / 0.25
(01) G061011000 - Set of setscrews M2.3x3 mm (150 pcs.)
XY-translation stage:
Micrometer screws and fine-adjustment screws with 0.25 mm pitch
±1 mm adjustment range
Decoupled adjustment axis
Z-Fine adjustment:
Equipped with a micrometer screw with 0.25 mm spindle pitch
Translation range: 1.5 mm
Accuracy: 1 µm
Pinhole: 30 µm diameter
Objective:
10x; NA 0.25; focal length 20 mm
-----------
Qioptiq's Q-Sets are preconfigured assemblies of components from the LINOS Catalog for common lab applications. Your benefit: Save time since we select the required components from the catalog portfolio for your optical or optomechanical system for you. A variety of time saving Q-Sets are available for purchase online in the Qioptiq Q-Shop.