Newly Redesigned Optem FUSION SWIR Sensor
Featured Product from Qioptiq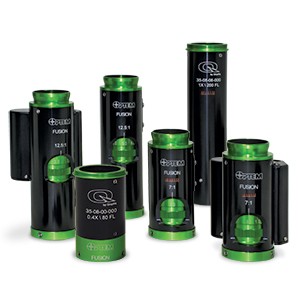 The innovatively redesigned Optem® FUSION Micro-Inspection Lens System now meets the growing need for shortwave infrared (SWIR) sensors. The lens systems provides true polychromatic imaging performance across the entire 400nm – 1700nm waveband making FUSION the ideal ready-to-use lens solution for all your high-performance micro-inspection applications.
Optem FUSION SWIR provides OEMs with extreme versatility to modify the system form, function and performance via interchangeable lens modules. Now with support across the key Visible (400nm - 700nm), NIR (700nm - 1100nm) and SWIR (900nm - 1700nm) wavebands, optical solutions are now possible for the first time under a single platform, opening entirely new approaches to machine vision demanded by Industry 4.0 manufacturing.
Spawning from Qioptiq's optical heritage, Excelitas' new Optem FUSION SWIR lens system leverages field-proven mechanics, flexible optics and modular interchangeability to provide a singular optical platform that addresses the many diverse needs of applications across a wide range of industries – eliminating the complexities, long development cycles and high costs that can be associated with custom imaging solutions.
To provide high performance and versatile SWIR imaging across a large variety of magnifications and working distances, Excelitas adapted and carefully optimized SWIR-compatible components across a select range of its prominent Optem FUSION lens system including:
Lower objective lenses, with numerous magnifications and working distances
7:1 zoom module
Fixed-magnification system
Camera tube lenses with a range of magnifications for various sensor sizes and mount types
Beam splitter for critical coaxial illumination support

Optem FUSION SWIR features various camera tube lenses and supports all SWIR cameras currently available on the market. It can also be adapted to exotic cameras, due to the large number of standard camera adapters available. Zoom and focus operations can be motorized to enable fully automated inspection solutions.