Ultra High-Res, Widefield Inspection Microscope
Featured Product from Qioptiq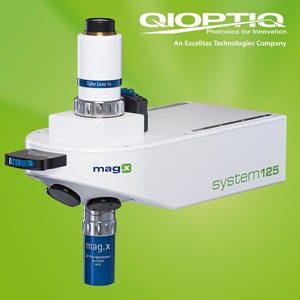 Qioptiq's Mag.x System 125 is the first off-the-shelf microscope system that is specifically designed to be used with large sensors with a chip diagonal of up to 56 mm. The system is fully modular and can be adapted to many applications that require high resolution with large field-of-view.
The following modules are available:
Configure 2X to 11.25X magnification
Köhler coaxial illumination (brightfield)
Optional darkfield illumination
High-performance 2X, 5X and NEW 8X Objectives
Multiple camera tubes optimize sensor coverage
Optional Motorized 4-objective programmable nose turret
Piezo Autofocus
The high NA of the objective lenses – e.g. 5x lens with NA 0.2 - enables high contrast images for sub-micron inspection. The system is specifically designed to achieve uniform high contrast over the whole field-of-view. To maintain this high contrast over the entire spectrum the optics are chromatically corrected in the spectral range of 430–700 nm. No re-focusing is required across varying wavelengths.
Additionally exact object space telecentricity is precisely maintained, eliminating measurement errors due to 3-dimensional objects or because of a variation in object position. Image side telecentricity also helps to achieve exact measurement results and furthermore prevents brightness variations with sensors using microlenses.
The combination of high-resolution optics with extremely sensitive and high-speed line scan sensors that can be up to 56 mm long enables manufacturers to inspect large areas efficiently with sub-micron resolution. Using this combination the throughput can be significantly increased compared to traditional microscopes coupled to c-mount cameras.
Ideal for applicaitons in:
Semiconductors
OLED inspection
PCB inspection
Universities, laboratories
Technical microscopy
Material science
Micro measurement
Visit Qioptiq for more information or experience the mag.x system 125 live at booth #1323, Photonics West 2014