High-Performance PMICs - flexibility & control
Featured Product from Qorvo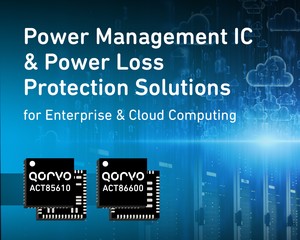 Qorvo®, a leading provider of innovative RF solutions that connect the world, introduced two products that significantly advance the state of power management in enterprise and cloud computing systems. The power management ICs (PMICs) are highly integrated and programmable, solving size challenges and providing system designers with industry-leading flexibility and control.
The Qorvo ACT85610 PMIC is the only product on the market with a monolithic, compact design that combines high-performance power loss protection (PLP) and programmable power management in a single chip. All eFuse, buck regulators and boost regulator FETs of the ACT85610 are integrated. It covers the common 3.3V, 5V and 12V power inputs for enterprise solid state drive (SSD) applications and provides seven programmable general-purpose input/outputs (GPIOs) for status reporting, sequencing control, system auto discharge and interrupts. The integrated 8-channel, 12-bit analog-to-digital converter (ADC) enables critical system parameter measurements and monitoring. The ACT85610 PMIC also implements autonomous storage capacitor health checking and accurate capacitance reading, which enhances system monitoring and lifetime estimation.
The Qorvo ACT86600 PMIC integrates high-current and high-efficiency regulators. This highly configurable and compact device has five step-down regulators, a buck-boost regulator and seven programmable GPIOs. Each regulator has multiple frequency settings for maximum flexibility. High-current regulators can be optionally configured as a single two-phase regulator with twice the current, to support up to 12A of DC current. GPIOs can be used to sequence external regulators, control signals to turn regulators on/off, control voltage, provide power good status, monitor system voltage and many other functions.
The ACT85610 and ACT86600 are available now and offer these specifications:
strong>ACT85610 (PLP PMIC)
ACT86600 (PMIC)
High-efficiency Constant On-Time (COT) control buck regulators with programmable output voltage from 0.6 - 5.2V

5V ~ 31V PLP boost storage capacitor charger

Programmable switching frequency to optimize inductor size, dynamic transient response or regulator efficiency
High-efficiency Constant On-Time (COT) control buck regulators with programmable output voltage from 0.6 - 5.2V

Multi-Phase option for buck 1-2 and buck 3-4 can be combined for high output current up to 12A and 8A, respectively

Programmable switching frequency to optimize inductor size, dynamic transient response or regulator efficiency