Qosina Launches Interactive 3D CAD Model Catalog
Featured Product from Qosina Corp.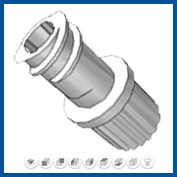 Qosina is pleased to release its new interactive catalog of 3D CAD models. This catalog allows customers to instantly download configurable 3D component drawings directly from Qosina's website.
"Our customers want to get a head start on modeling their design. They want to test form, fit and function," said Qosina's Director of Marketing and Product Development, Ken Wolcott. "Qosina prides itself on having a business culture that is built around the customers' needs. Launching this program is in direct response to requests from our customers, and we're happy to offer them this new complimentary service."
Before Qosina launched the 3D model feature, customers often had to recreate the components themselves. Now, the interactive catalog solution streamlines the process for them to download components and test them directly in their CAD design, speeding up the design process.
Customers can choose from over 100 file formats to download their component as a native CAD file, or they can use the interactive 3D PDF datasheet and share it with non-CAD team members. The built-in metadata stores all relevant data for future purchasing reference.
Qosina will continue to add products to this interactive catalog on an ongoing basis. To see a demonstration of how to download one of Qosina's CAD component models, please visit www.qosina.com/3d-models.