Qosina Announces Four New Y Connector Valves
Featured Product from Qosina Corp.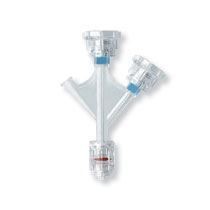 Qosina is pleased to announce the addition of four new Y connector hemostasis valves (#80300-#80303) to its product line. Each hemostasis valve is equipped with a rotating male luer lock or male luer slip, and a female luer lock sideport. The Y connector gives the valve an ergonomic design for comfortable handling. The housing is made from a tinted polycarbonate material that minimizes discoloration during the sterilization process. The silicone gasket creates a seal for secure positioning when closed and can accommodate devices from 0 - 4.5 FR or 0 - 7 FR. These hemostasis valves are latex-free, Class VI compliant and are suitable for EtO and Gamma sterilization methods.
Qosina offers an extensive line of hemostasis valves that are available in other styles and sizes, including double and one-handed, and a variety of guide wire and catheter accessories such as torquers, dispensing tubing and channel clips to complete your project needs.
Qosina offers low minimums and short lead times. Log on to qosina.com to see pricing, obtain our latest catalog, request complimentary samples and place orders. Be sure to sign up for our monthly e-newsletter to stay current with our newest product additions. Our product development team can work to customize a part to your specifications.
Founded in 1980, Qosina is a worldwide supplier of thousands of stock OEM components including bioprocessing accessories, compression fittings, ENFit™ connectors, luers, clamps, clips, check valves, stopcocks, hemostasis valves, tuohy borst adapters, swabs, spikes, syringes and tubing to the medical and pharmaceutical industries. Qosina is based in Ronkonkoma, NY in a 95,000 square-foot facility with an ISO Class 8 Clean Room and is ISO 9001, ISO 13485 and ISO 14001 registered.