DataMax Extreme Ethernet/IP PLTC-ER Rated
Featured Product from Quabbin Wire & Cable Co., Inc.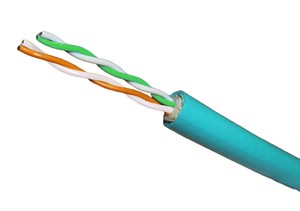 DataMax® Extreme PLTC-ER (Quabbin part number 5096) is now available for Ethernet/IP Cat 5e applications. This ground-breaking cable construction is the newest addition to our line of dependable harsh environment cabling solutions. Cables feature the PLTC-ER rating earned by passing crush and impact testing typically found on armored cables. In addition to the robust design, it is also approved for hi-flex applications making it an ideal choice for a number of applications where a rugged communication cable is appropriate.
DESIGN FEATURES
• 22 AWG Stranded Tinned Copper
• Twisted Pair Construction
• Embedded TPE Core
• Overall Shield/Braid
• TPE Jacket
• Hi-Flex & Torsion Life
• Crush & Impact Resistant
• RoHS Compliant
BENEFITS
• Can be run up to 50' without conduit or tray
• Crush Resistant
• Flexible
• Weight Advantage vs. Armored Cable
• Cost Advantage vs. Armored Cable
• UV Resistant
• Weld Spatter Resistant
APPLICATIONS
• Oil & Gas
• Motor Controllers
• Automation
• Machine Vision
LISTINGS/RATINGS
• NEC (UL) Type PLTC-ER
• NEC (UL) Type CM
• CEC C(UL) Type CM
• DIRECT BURIAL-Pending