DataMax® - Patch Cable the Way it Should Be
Featured Product from Quabbin Wire & Cable Co., Inc.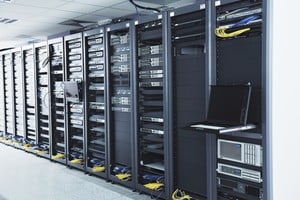 Quabbin's line of DataMax® patch cords offers solutions to common issues that are plaguing the rapidly growing Datacenters. Whether your priority is flexibility, more airspace, or top performance we have the right cable for you.
DataMax® Mini 6 UTP- The smallest offering in the DataMax® patch cord family of solutions. A 28 AWG reduced diameter profile featuring a 32% reduction in size and a 48% smaller cross sectional area when compared to the standard 24 AWG UTP patch cable. DataMax® Mini 6 will provide you with more airspace to maximize rack ventilation.
DataMax® Mini 6a F/UTP- A shielded version in 28 AWG, featuring a patent-pending spline-free construction that when compared to the standard, shielded 26 AWG F/UTP, yields a 23% reduction in size, 38% smaller cross sectional area, and a 33% difference in weight. This cable is the solution for anyone seeking a smaller, more flexible shielded cable.
DataMax® Relaxed- If meeting the TIA 568-C.2 requirements is at the top of your list in specifying a patch cord, but second to that is flexibility and workability, than DataMax® Relaxed is your best option. Named "Relaxed" because of its easy-to-work with feel and design, this cable offers you the best of both worlds. It is fully compliant, features a spline-free design, and even boasts a slight reduction in size and weight in comparison to the standard 26 AWG F/UTP. Looking for a shielded cable that has the feel of a UTP cable, this is the choice for you.
Learn more about all of the DataMax® patching solutions by visiting www.quabbin.com