Designing cabling solutions for industrial uses
Featured Product from Quabbin Wire & Cable Co., Inc.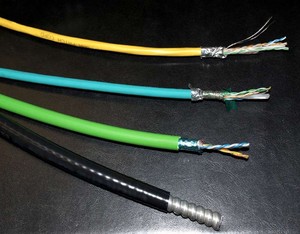 The industrial environment is unforgiving. Handling is rough, exposure to harsh chemicals and solvents degrade cables causing failures, and it is an environment that sees cable crushed, dropped, and continuously flexed. The abuse causes costly failures and even safety hazards.
While several types of cables have found their way into the setting, including armored, harsh environment CM and even commercial-grade CM cable, there is finally a new solution that addresses the shortcomings of what currently exists, while dramatically expanding cable benefits.
Armored Cable
When transmitting power or data, protecting cables is crucial to safe and reliable operation. Armored cable is constructed with a metal sheath, usually made of interlocking or continuous aluminum or stainless steel, or smooth or corrugated metal tape.
Industrial metal-clad armored cables feature a grounding wire within the cable bundle, so that they can be used in factories, throughout raceways, cable trays, and carriers. Armored cable use in industrial settings are IP67-rated and certified to UL and NEC standards.
There are challenges with armored cable use, however, including its tendency to fracture at one spot when bent repeatedly. It does not hold up well in damage-based situations, which commonly occur when crushed, hit, flexed until it breaks, run over, or is subject to items falling on it—it is often too easily destroyed.
Installation of armored cable is a big task given its metal must be stripped and the cable connected, requiring specialized tools. Installation also involves injuries given the metal's sharp edges. An armored cable is heavy, so shipping costs are high and the heaviness of the cable, when attached to a moving part of a machine, takes a toll.