Double Shielded 4Pr High Flex Ethernet Cable
Featured Product from Quabbin Wire & Cable Co., Inc.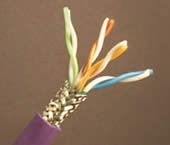 Quabbin double shielded 4pr high flex Ethernet cable with a Halogen free polyurethane jacket.
This cable is the right choice for continuous movement applications in harsh environments exhibiting an excess of electromagnetic interference (EMI). A perfect example would be a factory performing automotive assembly, using robotics to weld large metal components. Right at home on the robot arm, routed all the way to the tool changer/control module; the Quabbin cable will deliver crystal clear communication despite the continuous motion, flexing and torsional stress of the application.
Quabbin® Quality Process
Premium materials/components
Inline monitoring of manufacturing process
Rigorous post production inspection & lot tracking
Designed and manufactured in the same facility providing direct communication between engineering and production