Auto-Lock™ #1 Solution to Lock Your Cords in Place
Featured Product from Quail Electronics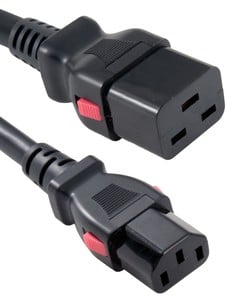 After several years on intense development, we are pleased to introduce our Brand New Line of AUTO-LOCK™ power cords. Have you ever disconnected a power cord by accident ? Do you wish there was a simple solution to locking a cable into place without having to deals with specific inlets or tons of hardware? Look no further, the Auto-Lock™ is solving all those problems.

With a unique patented locking mechanism on the connector side, fastening and unlocking your cord is just one pull away. That's right! After inserting the connector end into your device, it is safely secure. Try to pull on the cord and you won't be able to disconnect it. (See image above where a 20 lb CPU is hanging to show the strength of the mechanism). When you want to remove the cord, simply pull simultaneously on the red sliding tabs and voila!
Benefits of the Auto-Lock™
No Hardware
Universal Fit
Available with IEC-60320-C13
No Add-On Needed
UL, C-UL, and TUV Approved
Available with IEC-60320-C19
We feel the Auto-Lock™ can revolutionize the industry and decided to offer a wide array of configurations. Click here for a list of available configurations and part numbers.