International Power Cords
Featured Product from Quail Electronics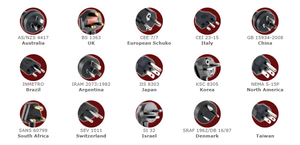 There are 15 different models of plugs in the international market. Wherever you go around the world, the standard will fall into one of these different configurations. By configuration we mean the pin pattern of the plug as well as the country-specific approvals.
Our international cord locator is designed to help you determine which plug is suitable for the global market. Simply choose your country either from the drop down box or by selecting the letter with which the country begins, and we will direct you to the model representing that area's design.
Note: we cannot guarantee exact accuracy on all the developing countries.
Quail Electronics offers all international power cords to take your products across the globe. Use our International Cord Locator to find the power cord you need.
Contact Quail for more information: 800-669-8090