Lighted Hospital Grade Auto-Lock Power Cord
Featured Product from Quail Electronics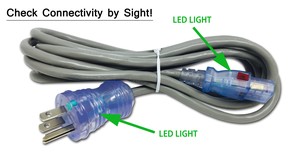 Quail Electronics, Inc. is excited to introduce the New Lighted Auto-Lock Hospital Grade power cords. With the medical industry being a vital aspect of humanistic infrastructure, the medical equipment used must meet the highest of standards in powering mission-critical machinery. This power cord features the standard NEMA 5-15P Hospital Grade Green Dot Plug rated at 10A/125V to an IEC-60320-C13 Auto-Lock connector with LED lights molded into both ends.
The Auto-Lock® end is a heavy duty connector with a unique patented locking mechanism that keeps your cords safely locked in your medical devices. The locking feature is located on the ground socket that grips to the inlet blade to keep your cord completely secured.
Once your power cord is plugged in, both of the LEDs light up, reassuring that it is actively receiving electricity from the power source to the device. This allows you to check for connectivity simply by sight which also helps if you are in a darker room.
These New Lighted Auto-Lock Hospital Grade cords are now available in 1', 8', and 10'. If you would like a custom length, please do not hesitate to contact us for more information.