Locked & Lighted Extension Cord
Featured Product from Quail Electronics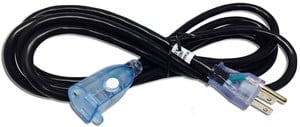 In the electrical industry, the importance of maintaining constant power is the most vital key to have. The OEM marketplace is well aware of the necessity of continuous power supply. But how do we guarantee this? Fortunately, Quail Electronics, Inc. is proud to offer NEW locking power cords with LED.
The clear standard NEMA 5-15P plug (rated 15A/125V) and the Q-Lock™ locking receptacle on this cord are designed with a special feature: LED lights that are wired into both of the molds.
With LED power lights for convenience, the clear Q-Lock® locks onto the pins of any standard 5-15P plug inserted, to stay in place. By pressing the "push open" white buttons on the side, it releases with ease. The Q-Lock® is rated up to 30 lbs of force so you know it's secure.
On one end, these cords plug directly into any standard NEMA wall outlet or receptacle, and on the other, the receptacle connects to any 5-15P style plug. Once the plug is inserted into a power source, both of the LEDs light up, reassuring that it is actively receiving electricity from the power source to the device. This allows you to check for connectivity simply by sight especially in a darker room.
The 5315.120QLCLT carries the UL and C-UL approvals and is rated at 13A/125V. If you would like a custom length, please do not hesitate to contact us for more information.