Rotating Plug & Auto-Lock Extension Cord
Featured Product from Quail Electronics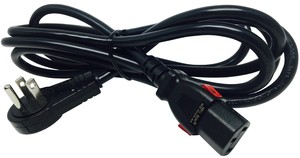 To save space and achieve a secured connection, our Auto-Lock family continues to grow – now, with the 360° Rotating NEMA 5-15P Plug.
Designed as unique and low profile, the rotating plug can give you the full range of motion as the plug itself rotates 360 degrees. The 360-degree motion of the plug guarantees a seamless transfer of electricity no matter how much it's positioned without putting excessive strain on the wire! This way, the cords stay intact without splitting or causing electrical hazards!
The heavy duty connector has a unique patented locking mechanism, the Auto-Lock®. The locking feature is located in the ground socket which grips to the inlet blade to keep it completely secure. If you need to remove the connector, simply pull back on the two convenient red sliding tabs to allow easy disconnection. The Auto-Lock® connects to your equipment with no special tools or installation needed which makes for the best solution for IEC locking cords. The Auto-Lock® is rated up to 30 lbs of force so you can be sure you have a secured connection.