ESPEC's Hobbs Engineering Educational Programs
Featured Product from ESPEC North America Inc | Qualmark Products and Services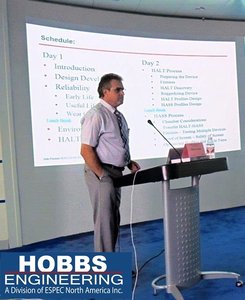 Webinars
These live online webinars are conducted throughout the year featuring industry leading experts on HALT, HASS, HASA, and related accelerated reliability topics.
Private webinars can be arranged as an economical and expeditious way of introducing the technology to your teams, while receiving information specific to your application.
Seminars
The Hobbs Engineering team holds on-site and regional seminars, and presents at industry shows worldwide. Regional seminars are periodically conducted across the globe, usually in conjunction with partner labs, distributors or representatives. They can do In-House seminars in order to meet a companies specific needs.They are typically one or two days in length and provide an excellent opportunity to obtain first-hand information about HALT, HASS, and AccESS practices. Manufacturers can learn how to radically shorten new product development cycles and release a much more reliable product to market.
Web-based Education (WBE)
Our Web-based Education is a popular option for customers whose systems are geographically disbursed or who need to bring new hires up to speed fast. These self-paced online courses meet the same standards for content excellence and expert instruction offered by our Solutions Group. Free previews are available prior to commitment.
On-site Education
Many customers want to ensure the proper approach is taken when first implementing accelerated reliability and request instructor-led training for their product design, reliability and test engineering groups. The Hobbs Engineering team offers a wide array of training that can be customized to fit your specific situation.
Certification
Certified Training is valued as recognition of excellence in HALT/HASS/AccESS accelerated reliability testing. Earning certification demonstrates that recipients have been equipped with the advanced skills necessary to perform HALT, HASS, and AccESS for extending product reliability. Certification courses have been developed by expert engineers who have extensive experience in accelerated stress testing theory, principals, and practices.
Consulting
The Hobbs Engineering team provides remote and in-house consulting to best fit a companies short term needs. Their consultants provide clients access to a deeper level of expertise in their field. They can make use of as much service or knowledge from the consultant as desired.