BETEX Bench-Top Heater With Swivel Arm
Featured Product from Quality Bearings & Components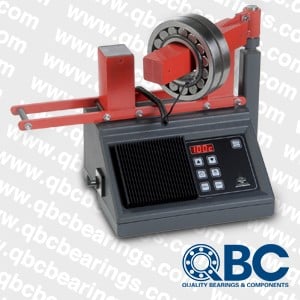 Hicksville, New York - A new standard bench-top BETEX 22 ESD induction heater from Quality Bearings & Components- QBC designed for heating bearings, pulleys, couplings, rings, etc. so that they can easily be mounted in maintenance (MRO) and/or production (OEM) applications. The built-in LED display makes this unit very easy to use. Digital electronics ensure optimum control during the heating process. The controller automatically regulates the most efficient use of power to ensure even and rapid heating. The BETEX 22 ESD is the smallest standard model of a wide range of 12 induction heaters in both standard and turbo types.
Identified as the TB-280620S, this 3.6 kVA bench-top heater will accept components with a minimum ID of 15 mm (.59") and a maximum OD of 340 mm (13.38"), plus a maximum width of 150 mm (5.91"). The maximum bearing weight of a component that can be heated is 40 kg (88 lbs.). Various accessories and a short video of a similar Betex Induction Heater can be viewed on our product page here. The video shows horizontal and vertical positioning of bearings on a turbo bench-top model.
Quality Bearings & Components offers a large inventory of high quality small inch and metric bearings from major manufacturers. Our services include bearing lubrication and maintenance capabilities. We provide the best selection of components and bearing maintenance equipment available today. QBC is committed to delivering the world's best selection of bearings and the expertise, tools and services to maintain them.
Quality Bearings & Components - The Bearing Marketplace, is a brand of Designatronics Inc.,
Phone: +1 516-616-0436 • Fax: +1 516-616-0443
Designatronics, Inc.
250 Duffy Avenue, Hicksville, NY 11801.
Phone: +1 516-328-3300
www.designatronics.com