Check Noise Levels - Power Transmission Components
Featured Product from Quality Bearings & Components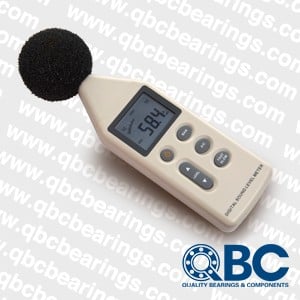 Hicksville, New York — Measure sound levels quickly and accurately with the QBC/BETEX Model 1500 Decibel Meter. Designed for comfortable handling and durability, the sound meter features an extra large easy to read digital display. With this professional microprocessor operated dB meter sound levels can be precisely measured within the frequency range of 31.5 Hz to 8500 Hz. The unit has a hold-function and can take interval measurements, storing the highest value automatically.

Included with the meter is a storage case, wind cap for the microphone, and instruction guide. Two models, 1500 and 1510, are available. Each are powered by a 9 volt battery (included), dimensions are: 260 mm x 69 mm x 32 mm.
Quality Bearings & Components (QBC), known as the bearing marketplace, offers a wide selection of bearings, bearing services, and bearing maintenance equipment. As a distributor of the worlds leading bearing manufacuturers our offering includes bearings, linear bearings, and shafting. Services include bearing relubrication. Bearings and other power transmission components require proper mounting and dismounting to ensure maximum life cycle, in support of this goal QBC offers BEGA products, including induction heaters, maintenance equipment, and monitoring tools.
Quality Bearings & Components a Designatronics, Inc. company
250 Duffy Avenue, Hicksville, NY 11801
Phone: +1 (516) 616-0436
www.qbcbearings.com