Economical Alternative to Spherical Plain Bearings
Featured Product from Quality Bearings & Components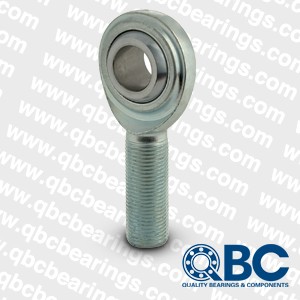 Quality Bearings & Components (QBC) is a stocking distributor of the world's leading bearings and linear motion products manufacturers. Over 100 standard catalog rod end bearings are offered for both precision and commercial tolerance applications.
Rod ends offer greater mounting convenience and provide a compact, lightweight, economical design alternative to spherical plain bearings. Able to accommodate moderate to significant misalignment, rod ends are used in linkage applications. QBC offers both male and female configurations with optional lubricator fittings. Download complete product specifications, request our catalog, and order online.
Four-piece Precision Rod Ends, styles BRFHMP/BRFHFP, use brass race inserts for lubricity and clearance control. They are produced to tight tolerances for applications where position accuracy is essential. These rod end bodies and balls are plated for corrosion resistance. For more heavily loaded, static and dynamic industrial applications QBC offers the high-strength series, BRFHMX and BRFHFX.
Commercial Rod End series BRCHMC and BRCHFC are preferred for dynamic applications. Series BRCMCR and BRCFCR two-piece commercial rod ends offer high-strength for heavy static loads. The unique manufacturing process for two-piece rod ends yields the industry's best conformity between ball and body for maximum bearing capacity.

Quality Bearings & Components offers a large inventory of bearings and linear motion products from major manufacturers. Our services include quick global sourcing, competitive pricing, and comprehensive bearing care. QBC is committed to delivering high-quality bearings and the expertise, tools and services to maintain them.


Quality Bearings & Components a Designatronics Inc company
250 Duffy Avenue, Hicksville, NY 11801
Phone: +1 516-616-0436
www.qbcbearings.com