Four-point Contact Ball Bearings from QBC
Featured Product from Quality Bearings & Components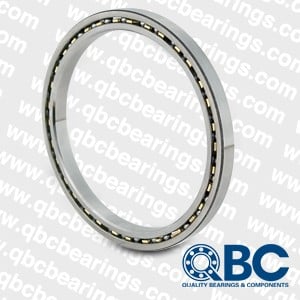 Hicksville, New York- Quality Bearings & Components - QBC announces a new line of thin section four point contact series of ball bearings. This dynamic series also comes in the innovative conrad style that features conrad radial contact points and the angular contact style that utilizes angular contact single bearings which are both reliable and cost-effective. This line is available in 52100 chrome steel with a snap-over cage feature. They are rated ABEC 1 and may be ordered in stainless steel as well. Quotes plus online orders are available at the QBC eStore. These quality designs ensures reduced friction, quiet operating ability and increased durability.
QBC also provides custom-made bearings and shafting to the customer print. We also offer on-site relubing of bearings in a certified class 1000 clean room.
Quality Bearings & Components offers a large inventory of high quality small inch and metric bearings from major manufacturers. Our services include bearing lubrication and maintenance capabilities. We provide the best selection of components and bearing maintenance equipment available today. QBC is committed to delivering the world's best selection of bearings and the expertise, tools and services to maintain them.
Quality Bearings & Components - The Bearing Marketplace, is a brand of Designatronics Inc.,
Phone: +1 516-616-0436 • Fax: +1 516-616-0443
Designatronics, Inc.
250 Duffy Avenue, Hicksville, NY 11801.
Phone: +1 516-328-3300
www.designatronics.com