Hydraulic & Mechanical Bearing Pullers
Featured Product from Quality Bearings & Components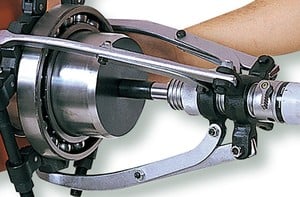 Hicksville, New York - New series of BETEX 2/3 Arm mechanical pullers from Quality Bearings & Components - QBC features self-centering, to prevent shaft damage, with self-locking system for the safe mounting and dismounting of bearings, pulleys, couplings, rings and other transmission components.
Identified as the TB-MP798... Series, the 5 models designed for 2, 3, 5, 8, and 10 ton capacities. They are easy to operate by one person and can easily convert from a 2-arm to a 3-arm puller. The arms slide inwards or outwards simultaneously. The self-locking system guarantees arms neither bend or deflect. The harder the force, the tighter the jaws grip. Various accessories are available. Sets are supplied in a fitted case consisting of a puller block, connecting rods and a set of bearing splitters.
Quality Bearings & Components offers a large inventory of high quality small inch and metric bearings from major manufacturers. Our services include bearing lubrication and maintenance capabilities. We provide the best selection of components and bearing maintenance equipment available today. QBC is committed to delivering the world's best selection of bearings and the expertise, tools and services to maintain them.
Quality Bearings & Components - The Bearing Marketplace, is a brand of Designatronics Inc.
Designatronics, Inc.
250 Duffy Avenue, Hicksville, NY 11801.
Phone: +1 516-328-3300
www.designatronics.com