Induction Bearing Heater
Featured Product from Quality Bearings & Components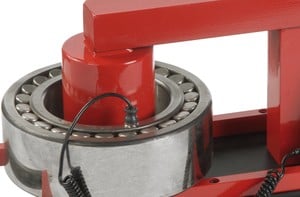 These methods generate smoke, fumes or oil waste and are hazardous for personal health and safety. Induction heaters are used in bearings and other transmission components for component fitting applications. Standard and TURBO heaters (low frequency) are used for heating beatings and other drive components for mounting purposes. MF Quick-Heaters (middle frequency) are used for heating many parts for both mounting and dismounting purposes. You can use flexible or fixed inductors.
Hicksville, NY - The BETEX 24 RLD TURBO induction heater is one of 12 induction heaters offered by Quality Bearings & Components to heat bearings and other drive components for easy mounting and dismounting. It is light enough that it can be easily carried by its handle. The TURBO function allows it to heat larger components than its standard counterpart without consuming any additional power (Max. bearing weight of 40 kg). Note that this only works when the heater is in the horizontal position.
BETEX induction heaters are a much safer and more efficient way to heat your component than traditional methods such as ovens, blow torches and oil baths. They operate by generating a strong magnetic field that sends high currents into the component through the included mounting yokes. An intuitive digital display allows precise control over the heating process, ensuring efficient power consumption and even heating. Afterward, the component is automatically demagnetized. All of this ensures maximum life of the component.
Quality Bearings & Components offers a large inventory of high quality small inch and metric bearings from major manufacturers. Our services include bearing lubrication and maintenance capabilities. We provide the best selection of components and bearing maintenance equipment available today. QBC is committed to delivering the world's best selection of bearings and the expertise, tools and services to maintain them.
Quality Bearings & Components - The Bearing Marketplace, is a brand of Designatronics Inc.,
Phone: +1 516-616-0436 • Fax: +1 516-616-0443
Designatronics, Inc.
250 Duffy Avenue, Hicksville, NY 11801.
Phone: +1 516-328-3300
www.designatronics.com